TISF Foot Sealers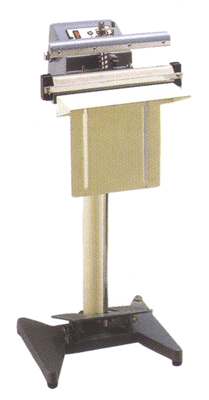 Our best-selling and most popular line of foot sealers. Ideal for almost any application. Available in 12", 18", and 24" w/ 2mm or 5mm seal widths.

TISF series comes in light blue. Holes are predrilled for an optional imprinter attachment. Sealer comes with a 26" pedestal, a 2" base, and adjustable work table with an adjustable foot control. Optional 36" pedestal for standing operator is also available.

Manufacturer's replacement kit includes 2 elements.

TISF-series sealers are made by TEW.

TEW has been manufacturing sealers for over 40 years in Taiwan 10mm foot sealer and 5mm double impulse foot sealers are available on special order.